Tribal Education Agency
Recruit, Retrain, and Retain Educators
---
In 2020, the Blue Lake Rancheria secured a State Tribal Education Program grant otherwise known as a "STEP" grant. The Tribe and the Consortium for Tribal Innovation & Entrepreneurship (or C-TIE) built a workforce development pipeline supporting Native youth career readiness education. We believe that a highly competent teacher workforce is a necessary foundation for improving children's educational outcomes. While Humboldt County has many experienced teachers working in its schools, there are too few Native American teachers and instructors of robust, culturally responsive and diverse CTE courses. We are currently looking to recruit, retrain and retain 12 Native American persons who are well versed in Traditional Ecological Knowledge (TEK) and Career Readiness Education (CRE).
Blue Lake Rancheria's Recruit, Retrain and Retain ("R3E") program covers the cost of obtaining a Designated Single Subject CTE credential, at no cost to the applicant. Recruited participants will be provided with tuition, books, and educational supplies, as well as, a credentialed mentoring teacher offering instructional support. This is a training program that will allow you to teach in a High School classroom. Training is customized to each applicant's work and professional experience.
In order to qualify for the R3E program, candidates must have a High School diploma or GED, identify as Native American and have experience in one of the Career Technical Education Sectors:
Agriculture and Natural Resources
Arts, Media, & Entertainment
Building & Construction Trades
Business & Finance
Education, Child Development, & Family Services
Energy, Environment, & Utilities
Engineering & Architecture
Fashion & Interior Design
Health Science & Medical Technology
Hospitality, Tourism, & Recreation
Information & Communication Technologies
Manufacturing & Product Design
Marketing, Sales, & Services
Public Services
Transportation
Please fill out the following application if you are interested in making a difference in Education for Humboldt County!
Application Link
---
For more information, please contact the Career Readiness Education Coordinator, Lisa K. Hoffman at lhoffman@bluelakerancheria-nsn.gov or by calling (707) 668-5101
All sources, link and forms necessary are provided by the Career Readiness Education Coordinator, Lisa K. Hoffman.
---
---
FAQ'S for Recruit, Retrain and Retain Program ("R3E")
In order to qualify, candidates must have experience in these CTE Sectors:
What are the other requirements for the Recruit, Retrain, and Retain Program?
Identify as Native American or AI/AN
Have a High School Diploma or GED
Must be a resident of Humboldt County
What documentation is necessary to submit with my application for proof of identification as Native American or AI/AN for this program?
American Indian/Alaska Native ancestry documentation includes, but is not limited to:
Tribal Government Issued Enrollment Card
Letter of enrollment or ancestry from the Tribe or Bureau of Indian Affairs (BIA)
According to Code of Federal Regulations, "American Indian" means an individual who is:
A member of an Indian tribe or band, as membership is defined by the Indian tribe or band, including any tribe or band terminated since 1940, and any tribe or band recognized by the State in which the tribe or band resides;
A descendant of a parent or grandparent who meets the requirements of paragraph (1) of this definition;
Considered by the Secretary of the Interior to be an Indian for any purpose;
An Aleut or other Alaska Native; or
I don't have a High School diploma, does your program pay for a GED?
I don't have a teaching credential. Will the program help me get one?
I have a teaching credential. Will the program help me renew it?
Yes. Please checkmark on the application where it reads "I need assistance in renewing my teaching credentials."
What are the minimum requirements for the Credential?
Requirements for the Three-Year Preliminary Credential
Individuals must satisfy all of the following requirements:
Three years of work experience directly related to each industry sector to be named on the credential. One year equals a minimum of 1000 clock hours and the experience may be full-time or part-time, paid or unpaid. See Terms and Definitions for additional information regarding the experience requirement.
High school diploma requirement by one of the following methods:
Possess a high school diploma

Possess a diploma based on passage of the GED Test
Possess the foreign equivalent of a high school diploma

Verification, signed by the Commission-approved program sponsor, that the applicant has been apprised of the requirements for both the preliminary and clear credentials, including the requirements of the program of personalized preparation.
Completed application
Completed Live Scan receipt
Verifying fingerprints have been taken and fees have been paid, unless fingerprint clearance is already on file with the Commission.
Application processing fee (paid for by the TEA)
What is LiveScan and why do I need to be fingerprinted?
Completing a LiveScan and fingerprinting process ensures that a candidate does not have legal issues that otherwise would prohibit them from becoming teachers. Under California Education Code section 44830.1, you cannot be hired as a teacher if you were convicted of a violent or serious felony. Violent felonies are defined under California Penal Code 667.5(c). These include felonies like those that inflicted great bodily harm, robbery, and some forms of burglary.
I have a felony on my record. Am I still eligible for the program?
It is contingent on the type of felony. According to the California Teaching Commission (CTC) an applicant shall:
"Not have been convicted of a violent or serious felony as defined in Penal
Code 667.5 or Penal Code 1192.7, unless the individual has received a certificate of
rehabilitation and pardon (also referred to as Certificate of Clearance) (Education Code 44830.1)" If you do not have a Certificate of Clearance, our partner, the Sonoma County Office of Education , recommends the applicant be fingerprinted and apply for the Certificate of Clearance at the same time. The state agencies will review all the data, request a statement from the applicant, and then issue a determination. They will either issue a Certificate of Clearance, giving way for the Tribal Education Agency to consider this application for approval or denial.
Can I get a Bachelor's Degree through your program?
No, not at this time; however, we are developing another program that may be of interest to you. Please contact the Career Readiness Education Coordinator, Lisa K. Hoffman at: lhoffman@bluelakerancheria-nsn.gov
Will this be a full time position?
This program is not a job; it is a training program that prepares you for future teaching positions.
I have experience working in my desired sector, but I don't have my documentation. Can I still be considered for the program?
The State of California requires various amounts of hours in the Designated Industry Sector. There may be some exceptions. Please consult with the the Career Readiness Education Coordinator for more information.
What kind of training and resources will be available after receiving my Credential?
The Career Readiness Education Coordinator can provide you with resources such as Curriculum Development, Classroom Management and Computer skills. Here is one example:
Will vaccinations, including COVID-19 be required?
No, they are not required.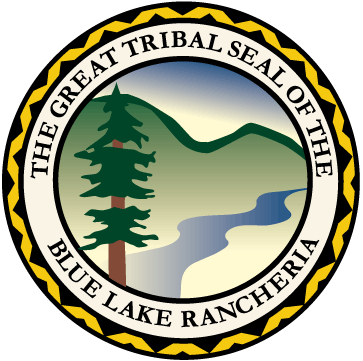 Tribal
Education Agency:
---
Information
tribaled@bluelakerancheria-nsn.gov
---
Alison Robbins
Executive Director
arobbins@bluelakerancheria-nsn.gov
TEL: 707.668.5101 | EXT. 1057
---
Blue Lake Rancheria
TEL: 707.668.5101
FAX: 707.668.4272
EMAIL: info@bluelakerancheria-nsn.gov
MAILING ADDRESS
(for U.S. Postal Service):
Blue Lake Rancheria
PO BOX 428
Blue Lake, CA 95525
OFFICE LOCATION &
PHYSICAL ADDRESS
(for FedEx, UPS):
Blue Lake Rancheria
1 Aiyekwee Loop
Blue Lake, CA 95525